The Sims 3 Island Paradise
Episodes
Total Episodes
6
First Episode
June 25, 2013
Last Episode
June 27, 2013
Let's Play The Sims 3 Island Paradise is TheQuxxn's LP based around The Sims 3 Island Paradise, the tenth expansion pack for The Sims 3. It was announced during a live event and press conference in January 2013, and was released in North America on June 25, 2013. Island Paradise is about giving the Sims paradise and experiencing it. Quxxn created three Sims for this LP; Cody Nash, Elle Conway, and Cassie Blue, whom are all roommates. Prior to the release of this expansion pack, Quxxn interviewed Graham Nardone, an associate producer of Electronic Arts. Quxxn also has an off-camera household based around this expansion.
Game Description
Edit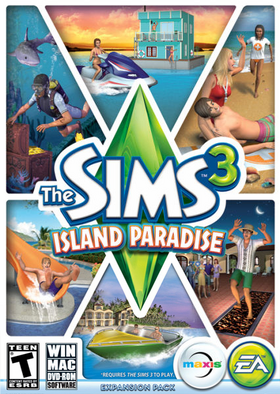 Island adventures in paradise await your Sims! From exploring the isles in fully customizable houseboats to creating a five-star resort experience, your Sims will love the carefree tropical lifestyle. Nautical Sims can set sail between islands and dive underwater to uncover sunken treasure—or maybe even befriend a mermaid! With innovative features never before seen in The Sims PC franchise and a world of new possibilities on land and in sea, your Sims will reap the benefits of their own island paradise.
Game Features
Edit
Set sail for adventure: Your Sims can now take off across the waves to discover new islands and explore like never before, whether by paddleboat, speedboat, or fully customizable houseboat! What will you discover?
Build the best resort in the islands: Specialize in waterslides and buffet tables to attract families, build pool bars where single Sims can meet and flirt, or create a romantic retreat dotted with bungalows. How you choose your amenities and set your prices will affect your reviews and profits. Get a high enough star rating, and you'll soon be rolling in Simoleons!
Life is a beach: See what surprises await beneath the sea! As your Sims build their snorkeling and scuba diving skills, they may find themselves on the shore of a new island or discover a long-lost treasure.
Boat sweet boat: Whether your Sims love the water or just love exploring, there is a range of fully customizable houseboats that can be moved to any open port. If your Sims tire of the view, they can just cruise on to a new locale!
New ways to build: New stilted foundations give your Sims the best of both worlds—a home that's partially on the water and partially on land. Build a resort, create traveling houseboats, and customize your very own island paradise for your Sims!
LP Gameplay
Edit
Part 1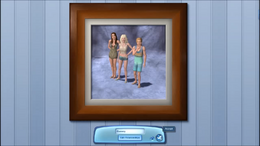 TheQuxxn introduces us to the three unique Sims and shows off a variety of the CAS items available in this EP.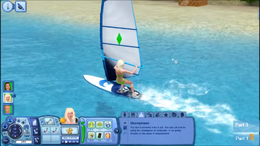 Elle, Cassie, and Cody move into a large houseboat docked at Isla Paradiso's Peaceful Port. This houseboat is a 20x15 barge and costs the roommates §5,000. After they move in, TheQuxxn shows off a variety of Build/Buy mode objects from this EP and constructs their home. Elle purchases Hobart's Hideaway, a free resort, and renames it after herself. She arrives at Elle's Paradise and explores the options from clicking the front desk. Cody and Cassie, on the other hand, visit Bella Vista Beach where Cody joins the lifeguard profession. Cody relaxes and plays in the ocean whilst Cassie begins snorkeling and wind surfing to kick-off her skills. Back at the resort, Elle reads a one-star review of her resort and decides to change a few things. Quxxn sells a few pointless objects from the roof and buys a medium-quality buffet table, a ping-pong table, and a pull-up bar.
Cody visits the resort to eat dinner with Elle. TheQuxxn sells four half-walls and two windows on the houseboat to buy new beds for the bunch. After Cassie gains her first Scuba Diving skill point, she returns home and heads to bed with Elle and Cody. In the morning, Elle collects her resort paycheck of §205. Both Elle and Cody get to work Cody whilst Cassie continues to practice snorkeling and finds a small space rock. Elle notices that there are three more reviews for Elle's Paradise; two of which are two-starred and one is two and a half. While pleased by the better reviews, Quxxn is angered that some Sim broke the sink and bathtub there. At work, Cody sees the ghost of Cara Dregg and saves her from drowning (again) as well as "Grandpa" Leandro La Rosa. Quxxn suspects "Grandma" Lora La Rosa and homosexual Ricardo Reyes may also start drowning, but they do not. Finally, Cassie reaches level two of the Scuba Diving skill and dives at Rocky Reef. Under the sea, Cassie catches an uncommon Octopus worth §410 and a common Sea Urchin worth §16. Cassie then returns to the surface in fear of being attacked by a shark she saw, although she could have breathed safely for two more hours there. On the surface, Cassie is greeted by an old man whom states they have "so much in common". Cassie sells her finds and flees to the resort with Cody. After supper, Quxxn builds a 4x7 pool with a ladder and changes the resort pricing to moderate.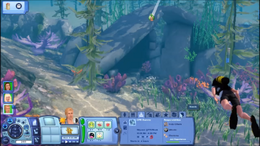 TheQuxxn has done even more changes to the resort, including the addition of a pool slide, a pool decal, a VIP room, a gym, a fire pit, and a buffet table. Elle tests-out and enjoys the new Aquaducks Waterslide and scorching fire pit. Quxxn jokes that pregnant resort-guest Linda Scott probably appreciates the addition of another buffet table because she's "eating for two." Cassie pisses herself when diving a second time whilst Cody meet a flirty deep-sea diver named Karlie Goldberg. Quxxn believes Karlie is a rich Sim from Sunset Valley or Pleasantview, but she is not. She declines Cody's invitation to Bella Vista Beach, so he instead chats with her via smart phone. Eventually, Karlie agrees to go out with him and Quxxn calls her a slut. At the beach, Cody chats with Karlie and asks what her job, Alma mater, sign, and martial status are. Cody discovers she is unemployed, single, a Scorpio, and an Accolades Institute graduate. After shaka bra-ing with her, Cody goes in for a heat-of-the-moment kiss. The two beach goers try to watch the stars together, but Karlie pisses herself. She freaks out, but Cody doesn't care. They proceed to watch the stars together again. On the other side of Surf Island, Quxxn buys four lounge chairs by the pool, hangs up a strip of blue lights along the roofs, changes the siding to light blue and white, and has Elle turn-in for the night with Cassie. The next morning, Cassie looks for diving work at the Civic Center and is given the task to find two bottled messages at Rocky Reef. Once she arrives, she dives under to explore a cave with tentacles coming out. She finds an air pocket in the cave, thinks she swam into the mouth of a giant creature, and finds a dangerous exit. Cassie doesn't find any bottles, but she does catch a common Sea Polyp worth §53, a common Jellyfish worth §16, and a common Swordfish worth §45. Elle collects her resort paycheck of §432, but has to use §86 to pay "those damn bills". Cody sleeps in until 3:00pm, but then has to go to work at Crystal Waters Beach. Cassie visits him after selling her finds and begins snorkeling. At Elle's Paradise, Elle asks two guests how to improve the resort: Hinni Hashini says that it needs more landscaping and Cody's romantic interest, Karlie, screams that they need a sushi bar. Elle notices trash piles and dirty objects all over the resort, so she decides to hire a medium-quality maintenance worker.
Elle catches a nice tan from relaxing at her paradise, and Mylee Arias begins drowning after Cody's shift ends. Cody contemplates whether or not to save her, but decides to do so. Cassie becomes very hungry, but is determined to level up her diving skill before eating. Although Elle is starting to feel a bit ill, she heads to Rebecca's Café to do some socializing. There, she meets an insane guitarist named Mathew Mango with a massive tattoo. Elle believes he may be rich, but she wants to explore her options a little more. An inappropriate angler and sailor named Tariq Scott says that he and Elle have a lot in common, so she gives him a friendly introduction. She promptly asks if he's single, and he admits that he is in a relationship with the pregnant Linda. She says goodbye and goes to Paradise Pub on the neighboring island. There aren't many people there, so she just orders a plate of hot wings. Cassie, on the other hand, improves her Scuba Diving skill to level four, and can now scuba dive at Davy Jones' Locker whenever she pleases. She then grabs a bite to eat at Cruzita's Groceries and Diner and becomes a business partner there. The next morning, Cody invites Karlie out to La Costa Verde for a one-night stay and Karlie says yes. Elle decides to pursue the painting skill and hang up paintings at her resort when it gains five stars. TheQuxxn promptly buys her an Artsy Easel for §300 to start painting. At La Costa Verde, Cody checks in while Karlie is "trippin'." Afterwards, Cody swims over to the pool bar and orders a Clsssy Glassy from Bree Cardenas. Matthew Mango tries to flirt with Karlie whilst Cody was drinking, but he walks over in time to make sure Matthew does not. A stay cat hisses at Karlie, so Cody compliments her appearance and personality, gives her romantic red flowers, flirts with her, holds her hand, and takes a romantic photo with her to cheer her up. When Cassie wakes up, she heads straight to Davy Jones' Locker and opens a treasure chest there. She receives §1,000, two large cut gems, three pieces of silver, and a map piece. She sells all five metals, but keeps the map piece and the money. She also explores Davy Jones' cave while under water and appears on land next to three docks. Elle finishes her first painting, which Quxxn thinks looks like shit. She goes to Rebecca's Café and dances with an old man because no one else is there, but then she spots a young guy with nice hair: Harley Greenwood. She introduces herself to him in a friendly manor, but they are not attracted to each other. However, that doesn't stop her from asking him about his career, enthusing about the outdoors, sharing a secret, and getting to know him. While using the toilet, Harley flees. She orders a brownie at the barista bar to cheer herself up, but Inez Montero screws up and gives her key lime pie instead.
Cassie swims to Rocky Reef and dives under water. She enters the cave and feels like flying in a permanently dark and freezing sky with fish trying to eat her. She also finds an air pocket and a miniature blue whale and a behemoth shrimp that are the same size. This cave leads to Davy Jones' Locker, much to Cassie's chagrin. All three sims sleep in past 10:00am the next morning, and a very lonely Cassie heads to Bella Vista Beach to socialize. No one else is there, so she just "catches a nice little tan" before heading to the café. At Rebecca's, Cassie plays foosball with Karlie, whom has left La Costa Verde. With his girl away, Cody gets pampered and flirts with a mermaid named Aislara Alvarez. Aislara asks Cody what his sign is, but gets upset when he tries talking with her. Cody learns that Aislara is in the Music industry, and he calls her a llama. Elle visits her resort for the first time in a while to check the reviews. All are two stars or above. TheQuxxn decides to upgrade the resort with some flowering bushes, a medium-quality buffet table, a new dining tables, a waterfall, and a cleared lobby. Elle asks Doug Rodel about his resort stay and he suggests that Elle adds a dessert table to her buffet and does some more landscaping. She also asks him about his career, his degree, and his Alma mater. He is unemployed, but graduated Sims University with a degree in fine arts. She can tell Doug doesn't like her very much, so she apologizes and leaves for Paradise Pub. Isla Paradiso's main export may be WooHoo, but Elle decides finding a man there is hard. After Cassie's social need is full, she orders a cheese danish from Inez, who actually gets the order right this time. Elle changes her mind and heads to Los Libros Library to create an online dating profile on SimMatch.com. Elle doesn't lie on her profile, despite her lack of luck with men in the past, and Cara Dregg floats past the library. Elle sends a message to Masao Hamada, a clumsy mermaid with a green thumb. She also sends a message to the brave yet absent-minded Christopher Collins, but fears he may forget their anniversary. At Sweet Water Pool, Cody boasts about being a lifeguard to Javiera Batista, but she doesn't want to hear it. Instead, she wants to gossip. Cody heads to the Sparkling Sands Resort and checks in for a two-night luxury suite. Cody sees the beautiful and modern resort and thinks that Elle would cry if she saw it. Elle's Paradise has a better receptionist, however, because Deborah Smart takes her time to check Cody in. He gives a friendly introduction to Valerie Vidal by the snack bar and asks if she is employed and single. To Cody's luck, she is single and a professional blogger. Eventually, Valerie heads to Cody's luxury suite.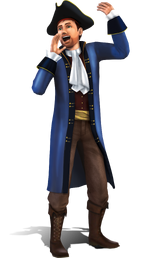 | EPISODE NUMBER | EPISODE TITLE | GAMEPLAY SUMMARY | RELEASE DATE | LENGTH |
| --- | --- | --- | --- | --- |
| 0 | Interview with SimGuruGraham | I recently had the opportunity to have a Skype chat with SimGuruGraham to ask some of your questions about The Sims 3 Island Paradise. | June 7, 2013 | 13:00 |
| 1 | Create-A-Sim | I show off all of the items from Create-A-Sim | June 25, 2013 | 43:31 |
| 2 | Houseboats and Speeding Taxis! | The gang moves into a houseboat and quickly buys a resort to fix up! | June 25, 2013 | 32:49 |
| 3 | Scuba Diving and FREE FOOD! | Elle fixes up her resort, while Cody saves a few lives! | June 25, 2013 | 28:21 |
| 4 | Long Walks on the Beach | Elle Improves her resort and Cody meets a nice young lady. | June 26, 2013 | 40:43 |
| 5 | Paradise... | I'll fill this in later... hopefully. | June 27, 2013 | 30:15 |
| 6 | Davy Jones' Locker | | June 27, 2013 | 32:20 |
Players who pre-ordered Island Paradise on Origin before June 21 had the chance to receive a free copy of Barnacle Bay, the second store world from The Sims 3 store (download here).
There are five editions of Island Paradise:

Original Edition
Limited Edition, which includes exclusive Survival Kit objects and clothing
Origin Edition, which includes Carnival-inspired clothing
The Sims 3 Plus Island Paradise, which includes The Sims 3 base-game and Island Paradise
The Sims 3 Plus Island Paradise Limited Edition, which includes The Sims 3 base-game and the Limited Edition of Island Paradise

Players who register their copy of Island Paradise to their account on TheSims3.com receive the Tropical Waters Hat Pack.
Although there is an annotation for Part 7 on Episode 6, a seventh part was never uploaded.
Neither Cody Nash, Elle Conway, nor Cassie Blue were ever uploaded onto The Sims 3 Exchange.